Filter by Category
Certified Recovery Peer Specialist (CRPS)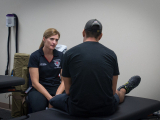 Medication-Assisted Recovery and Mutual Aid Groups: A Primer for Clinicians
with Scott Luetgenau, MSW

Jan 27, 2021 at 1 pm
The history of mutual aid groups (e.g. 12-step groups) includes a dissension around integrating individuals with drug addictions into a fellowship founded on the idea of supporting individuals who struggle with alcohol use alone. A similar territorial struggle exists today for individuals wishing to engage with traditional mutual aid groups while utilizing medication (MAT) in their recovery pathway. Join us as we explore historical attitudes and official stances on Narcotic's Anonymous around prescribed medications for substance use disorders. This presentation will examine options for clients in areas devoid of mutual aid groups or alternative community supports. Attendees will receive information on alternative mutual aid groups and meeting formats for individuals engaged in medication-assisted (MAT) recovery.
Learning Objectives:
Review the history of Narcotic's Anonymous attitudes on the use of full and partial agonist medications for opioid use disorders (OUD)
Explore the negative impact of stigma on individuals engaged in medication-assisted recovery
Develop strategies for engaging mutual aid group communities to better inform your practice
Increase knowledge of alternative and web-based meeting models
Presenter's Bio:   Scott Luetgenau, MSW, created Gatespring Consulting to positively impact the field and its leaders while supporting and strengthening the future of individuals served. He is in long-term recovery, is a social worker, and also an addiction specialist. Scott serves as Co-Chair for the North Carolina Substance Use Disorder Federation and as the Deputy Director for Addiction Professionals of NC.
Who Should Attend: Clinical professionals who assist individuals with opioid use disorders (Certified Recovery Support Specialists, LMHCs, LCSWs, CACs, etc.) and anyone interested in learning more about this topic is welcome to attend. 
Wed., January 27, 2021 from 1pm - 3pm. A Zoom link will be sent 48 hours before training begins. For questions, contact Nancy Rice at nancy.rice@lsfnet.org
Full Course
Rural Substance Abuse & Mental Health Summit
with Lesley Hersey

May 13, 2021 at 8 am
Rural communities are faced with challenges different than those of more urban areas. Resources are limited, especially when it comes to programs for substance abuse recovery and mental health services for those we love. However, rural communities possess qualities and hidden gems that other areas do not. This summit will focus on discovering those hidden gems and enhancing the strengths your community contains to improve services for those struggling with substance abuse, mental health problems or suicidal thoughts, including the role the local church plays in the health of our community.
Keynote presenters: Bethanie Tucker from the Aha Process, and Tanner & Andrea Clemonts from Tennesse. 
Will run